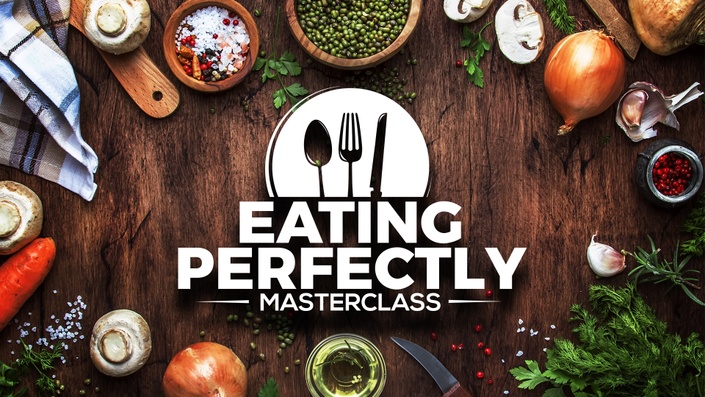 Eating Perfectly Masterclass
Ditch the Diet Plan For Good
What is the Eating Perfectly Masterclass?

This course will radically change the way you choose your food, help you eat perfectly for your own body, and eliminate the need to diet ever again.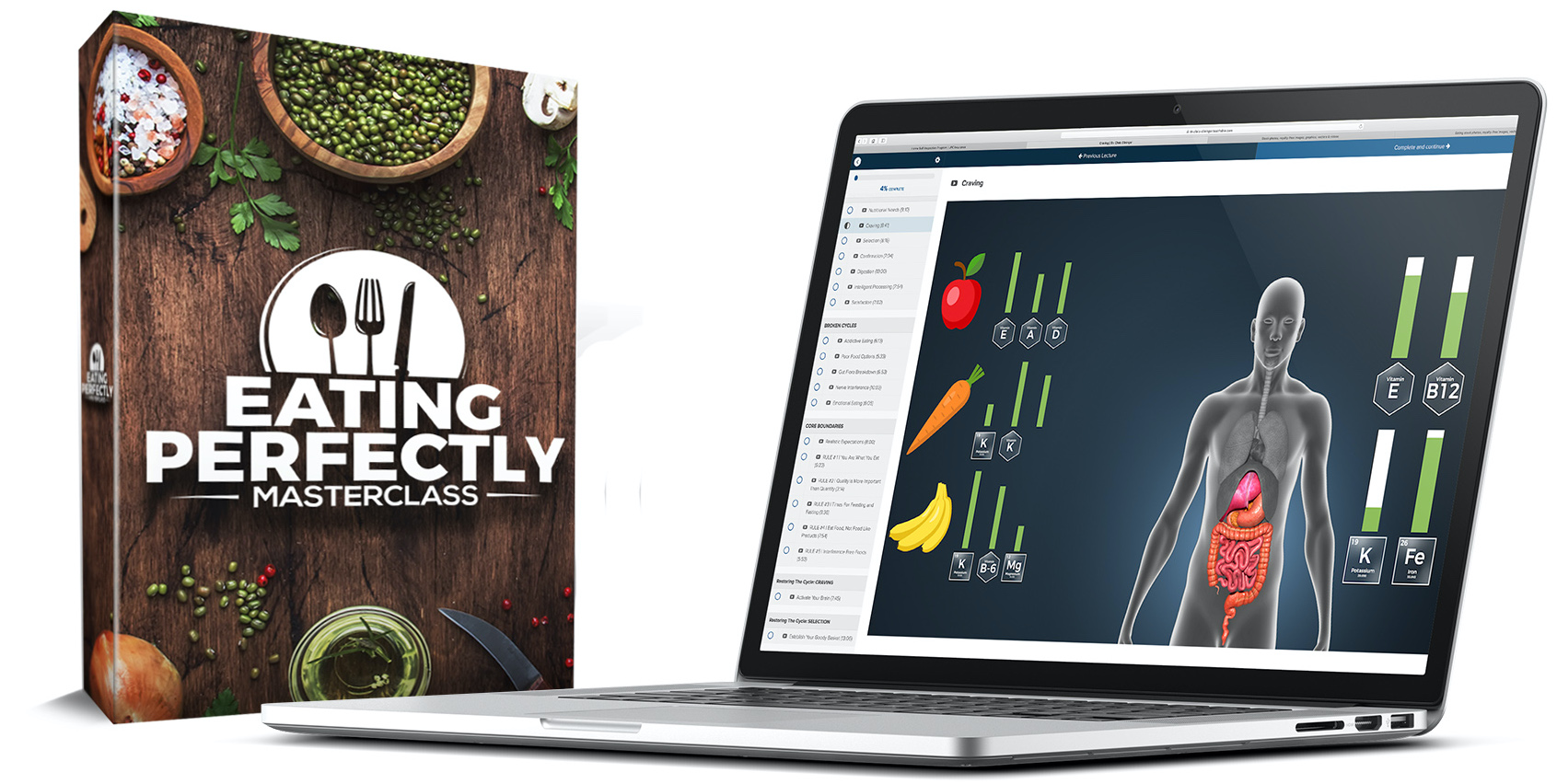 My name is Dr. Chris Slininger, and I have spent 10 years experimenting with, learning about, and studying the design of the human body to discover that the most accurate way to eat food. I found that it is to EAT WHAT YOU CRAVE. I eat this way, my family eats this way, and I have taught hundreds of other people and patients to do the same.
It is not about quick fixes, It is about lifelong understanding of how nutrition works. Your body is designed to eat what you crave, because your cravings are the signal letting you know exactly what you need to eat. The problem is, we don't fully understand those cravings and they seem to be targeted toward sugars and junk food.
Diets don't work. They do not take into account the BRAIN'S ROLE in controlling your cravings. They focus way more on the food that you EAT rather than the food you are ABSORBING. This means you can be spending large amounts of money on food and supplements and still be MALNOURISHED. Diets, even including things like Paleo and Atkins, don't take into account the pattern of the NORMAL NUTRITION CYCLE, which is essential for eating right.

You can change all of that. You can start Eating Perfectly, even without a diet plan. I have simplified the process for you. The Eating Perfectly Masterclass is a comprehensive online course with over 30 videos detailing everything you need to learn how to eat according to your natural cravings.
It is a lot to learn, and it is a lot to apply. It's everything you don't learn in school (and you probably should have). But when you start applying the principles in this masterclass, you will feel amazing. You will understand what you need to eat and when. You will never need to count calories again. And you can ditch the diet plans for good!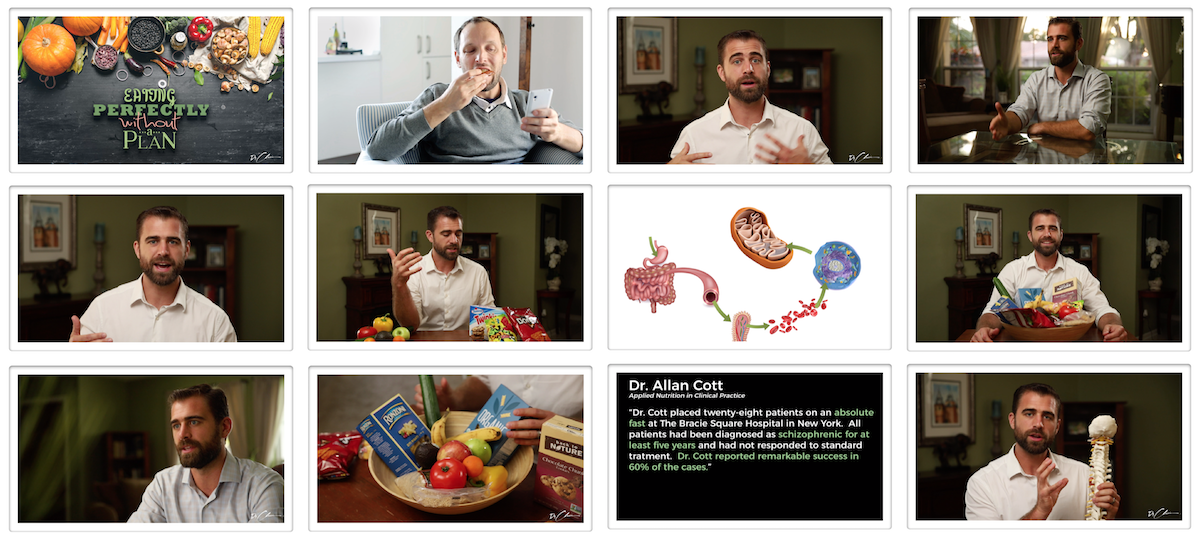 SECTIONS
I broke this course up into 5 main sections for you so the information you learn can build. Like I said, this is a course. It is like going to school again, but you get to enjoy the experience of a healthier body for the rest of your life!
Section 1 - THE PRINCIPLES BEHIND THE PROCESS: Old habits die hard, and you are going to learn to kill them by learning the anatomy and physiology behind the fundamental principles of nutrition.
Section 2 - THE NORMAL NUTRITION CYCLE: In order to eat correctly according to your cravings, you need a firm grasp of how nutrition works inside the body. This will be thoroughly explained through the Normal Nutrition Cycle.
Section 3 - BROKEN CYCLES: Everyone who has taken this course has had problems with food somewhere along the Normal Nutrition Cycle. This section will address FOOD ADDICTIONS, EMOTIONAL EATING, DIGESTIVE PROBLEMS, and more.
Section 4 - CORE BOUNDARIES: Freedom needs boundaries so you can enjoy the benefit of great food choices. This section helps establish boundaries to help you succeed in eating perfectly.
Section 5 - RESTORE YOUR NUTRITIONAL CYCLE: I will teach you step-by-step ways to restore your nutritional cycle so that you can start consuming AND absorbing better nutrition which will lead to better health.
WEBINARS
You will also have access to 4 exclusive webinars. We have them recorded within the class, but you will also receive private invitations to any future webinars or live seminars that you will automatically have access to as an enrolled student.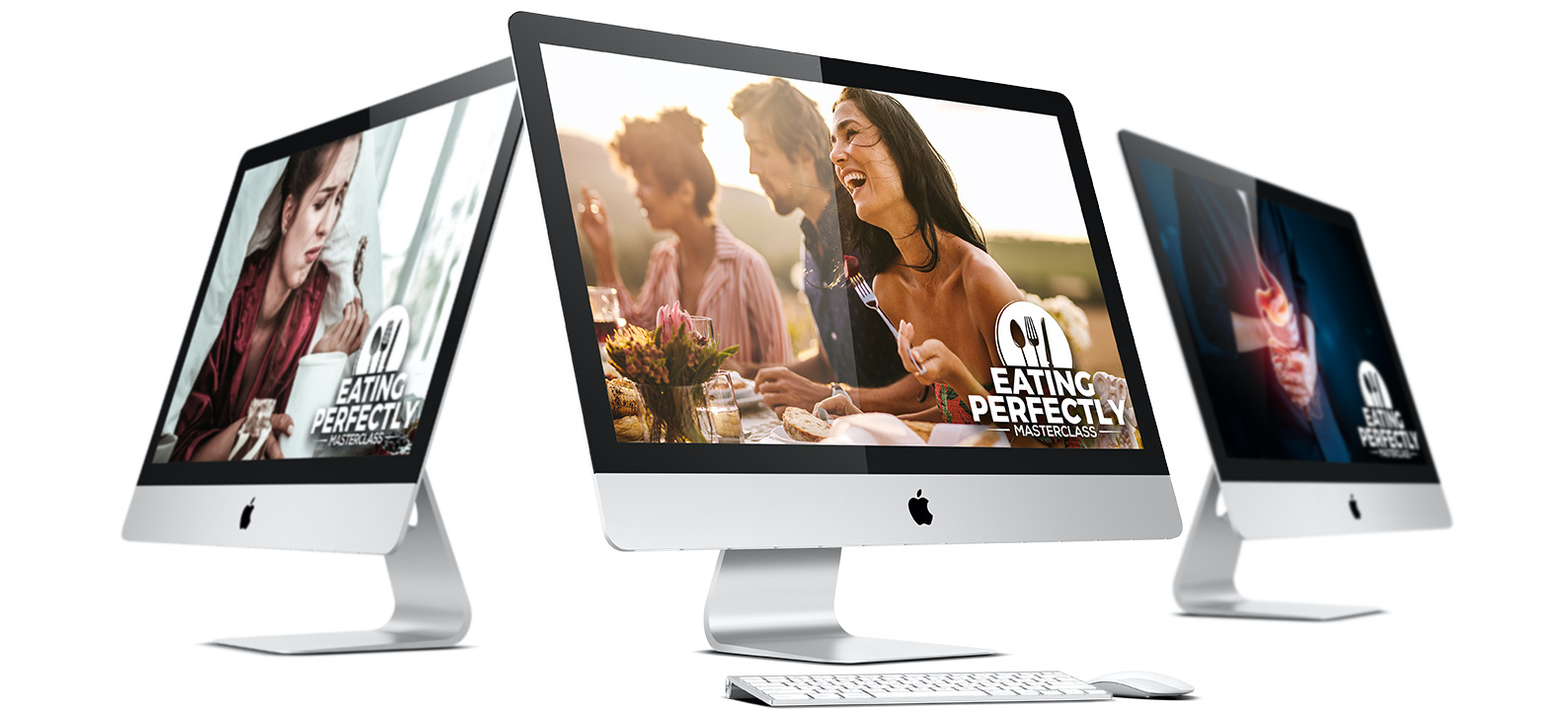 Webinars include:
Eat What You Crave
Emotional Eating and Food Addictions
Healing your Gut in Proper Sequence
The Detox/Fuel Up Cycle
DOWNLOADS & RESOURCES
Through the process, you will get downloads and tools to help you through the experiments, clenses, and programs to get you back to natural eating.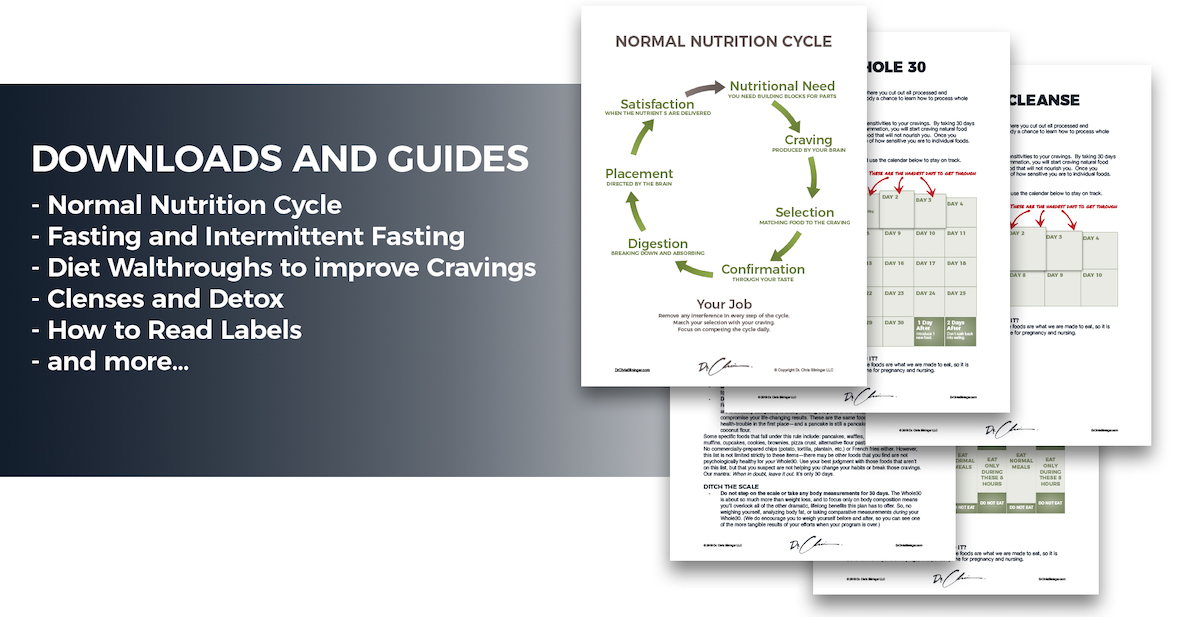 UPCOMING CONTENT

This course continues to expand regularly with new content. Upcoming content includes:
PREGNANCY AND NURSING
MEDICAL CONDITIONS affected by food
INTERVIEWS WITH EXPERTS
PRIVATE WEBINARS AND EVENTS
and more
REGISTER TODAY! ENROLLMENT GETS YOU IMMEDIATE ACCESS!

Just imagine what life will be like when you are eating better, counting no calories, planning no meals, and feel healthier every day as you Eat Perfectly Without a Plan. Ditch the food journal and enroll for the Masterclass today!

When you click on the "Enroll" button, you will be taken to a secure order form. After you put in your credit card information, you'll be taken to a secure Member's Area where you can get immediate access to the course and all the contents. As a new student in the course, you will be welcomed into the private Facebook community to help facilitate ongoing discussions regarding the material and to help you connect with others going through the same changes or challenges. You will also be getting a private email invitation to the webinars for this current enrollment period. Here are the webinar dates for the current enrollment period.
Eat What You Crave
Emotional Eating and Food Addictions
Healing your Gut in Proper Sequence
The Detox/Fuel Up Cycle
See you in the Masterclass!
Your Instructor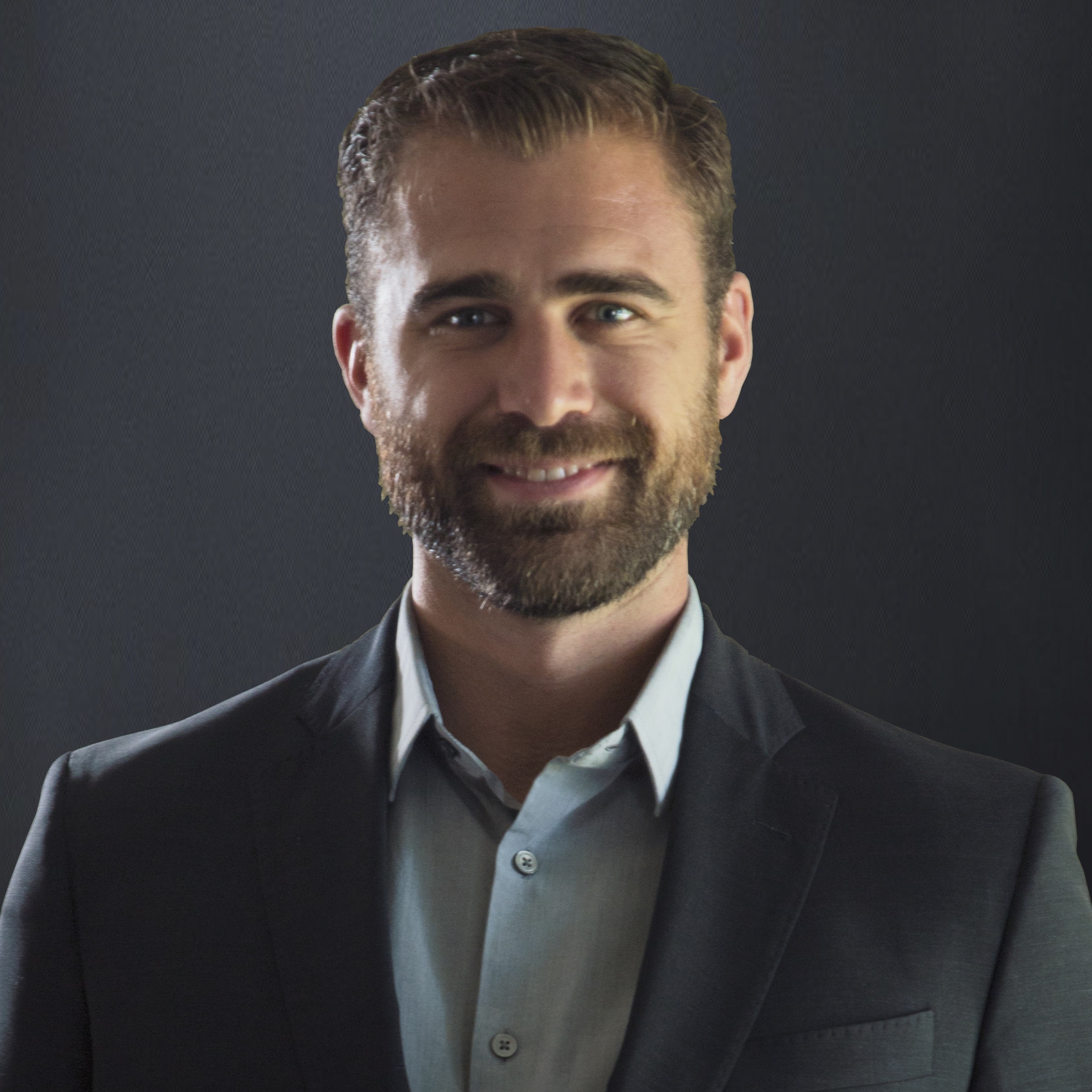 I am an upper cervical chiropractor and a speaker teaching hundreds of people how to live a healthier life by following the principles of health. Just like I help my patients in my clinic, I will be your mentor through this journey of restoring your nutritional health and understanding how to restore the nutritional cycle within your body.
"The Eating Perfectly workshop was a pivotal moment in my life. I came that evening feeling hopeless after years of struggling with my health. I discovered that my focus had been METHODS instead of PRINCIPLES. As Dr. Slininger shared simple and solid principles I began to see a shift in my thinking. After 6 weeks I feel so much better, I am losing weight, my joint pain is almost gone, but the most significant measurable improvement has been my blood pressure. It has gone from 170/105 to 127/72. If you are looking for simple solid ways to change your health, I highly recommend Eating Perfectly Without A Plan!"
- Mary Arnold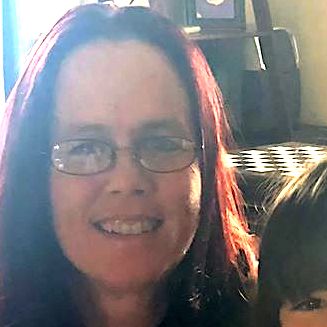 "This is a must, you won't regret going; apply what is taught and you will be amazed at the difference, not to mention how fast it works. I went a year ago and I have lost 8 sizes simply by practicing the principles shared. Dieting plans I have done in the past (even tried diet pills at one point) would never make any form of progress. One month after going to this seminar I started to see transformation and could tell that I was not only losing weight I was getting healthier."
- Dawn Bohler
Course Curriculum
INTRODUCTION
Available in days
days after you enroll
THE PRINCIPLES BEHIND THE PROCESS
Available in days
days after you enroll
THE NORMAL NUTRITION CYCLE
Available in days
days after you enroll
Frequently Asked Questions
When does the course start and finish?
The course starts as soon as you sign up and access never ends! It is a completely self-paced online course - you decide when you start and when you finish. However, slow progress makes for slower results, so I hope you can dive in soon. Each class does have specific webinar times where Dr. Chris will explain and discuss a specific topic in greater detail, and allow for additional discussion time with all of the students.
How long do I have access to the course?
How does lifetime access sound? After enrolling, you have unlimited access to this course for as long as you like - across any and all devices you own. You will also have access to all added material when it comes out.